Leading UK Manufacturers of
Quality Bouncy Castles & Inflatables
Sales Lines 7 days, 8am-10pm
01952 585859

Manufactured to BS EN 14960; PIPA compliant

"Used over 200 times a day in our busy play centre. Never breaks!"
Baby Gym, Switzerland
"Our families love the castles."
British Army, Naples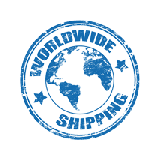 Bouncy Castle Sales Company Free Items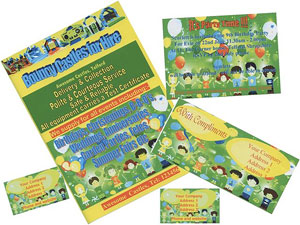 At Bouncy Castle Sales .com, with every inflatable order we give a COMPLIMENTARY cd with copies of useful stationery on. These files are very easy to update with the individual customers name, phone number and address etc.
Promotional Leaflet
Disclaimer Set
Party Invitations for you to give to your customers to use, promoting your business
Compliment Slip
Business Card
Business Information Guide

Plus....
FREE YELLOW PAGES ADVERT IN YOUR AREA


Plus NOW....
FREE THOMSONS ADVERT IN YOUR AREA

Want a FREE website?
For a limited time we are offering a FREE website with all inflatable orders placed. We are offering this as we want to assist our customers with the set up of their businesses. We have partnered with a large professional web design organisation to be able to offer this unique service to our customers. With the delivery of your order, you will receive your password to access the button below, from there you will gain entry for the FREE WEBSITE, to get your business off to a flying start!
Example of Free Website Home Page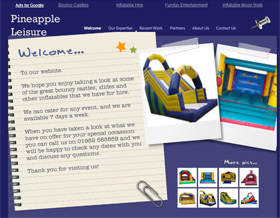 FREE 2 Hour Training DVD
£100.00 OF FREE RE-INFORCING
FREE ANNUAL SAFETY TEST FOR 10 YEARS
FREE BUSINESS BANKING
We are pleased to be able to offer you Free Business Banking, to help the costs if you are setting up a business. Upon delivery of your goods you will be sent details with regards to the bank offering this facility, with our compliments.
FREE LISTING ON NATIONAL INFLATABLE DIRECTORY
We are happy to be able to offer you your very own business listing on a national directory specifically designed for inflatable play. Details for this will be supplied on delivery of your goods.

FREE INFORMATION E.BOOK
You will be able to download an informative e-book helping you increase the potential of your business. Should you wish to use this, this will be available when your goods are supplied to you.
FREE HIRE TEMPLATES
FREE £500 OFF VOUCHER
We are offering a limited amount of money off vouchers. When you buy your inflatable today you will receive a £500 money off voucher.
FREE BOUNCY CASTLE HIRE TRAINING & FACE PAINTING TRAINING DVD
We offer step by step training to help you get your business off the ground. Our face painting lesson helps you diversify your business into another lucrative area of the leisure industry.
FREE LISTING ON HIRE DATABASE
When you place your order with us you get the opportunity to have your company featured on our Hire Database. We are prominently positioned on the major search engines and we advertise nationally. This extra publicity will help raise your company profile.
COMPANY LOGO
When you purchase from us you have the opportunity of having a company logo designed for you. Just e-mail your company name and our in-house I.T. specialist will send over 2 different logos for you to choose from.
365 DAYS SUPPORT
When you are on-board as our customer you have the facility to e-mail us with any queries or questions with regards to the industry. We will happily assist you in growing your business with any advice or guidance we can give you. You can e-mail us for support any day of the year!
OFFERS ARE SUBJECT TO AVAILABILITY, AND CHANGE WITHOUT NOTICE. WE CANNOT BE HELD RESPONSIBLE IF PROVIDERS OF THE COMPLIMENTARY ITEMS DISCONTINUE THEM FROM SERVICE. THESE FREE ITEMS CANNOT BE USED IN CONJUNCTION WITH ANY OTHER OFFERS. COMPLIMENTARY ITEMS ARE ONE PER CUSTOMER.